Tom O'Hanlan, CEO of Sealevel Systems, is the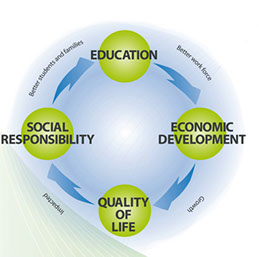 Chairman for Manufacturers Caring for Pickens County (MCPC). This newly formed group of business leaders has big goals to improve the economic development climate and attractiveness of Pickens County.
Recently, MCPC sponsored an event that gathered together guidance counselors from all the Pickens County schools to learn about job outlooks, training programs, economic development benefits and strategy, and what skill sets local manufacturers look for and hire. Manufacturers want and need skilled and educated employees in their work force. They can attain these employees through various efforts in cooperation with the School District of Pickens County and Tri-County Technical College. Better education does not only lead to better employees, but better parents, families and societal quality.
A more attractive work force will result in more companies expanding and moving to Pickens. More companies leads to more jobs, an increased tax base, and more money to be spent on education and social services. There are many other intangible benefits that are driven by economic development within the county and MCPC is striving to make this happen.
Tom sums up the goals of MCPC very nicely in saying, "the group was formed to advocate STEM Education, Economic Development and Social benefits, impacting quality of life and growth in Pickens County."
For More Information on or how to get involved with Manufacturers Caring for Pickens County please contact us at [email protected]
News Flash!
Tom O'Hanlan, Chairman for Manufacturers Caring for Pickens County discuss community give back and the start of MCPC in the August 3rd Entrepreneurs Section of the Greenville News.
In The News
The Manufacturers Caring for Pickens County (MCPC) has had a busy summer. The group will be applying for 501(c)3 status, allowing it to solicit funds to be distributed to educational and social needs.
The group has welcomed new board member Jim Wanner, CEO of KeyMark Inc., in Liberty. KeyMark creates imaging and document storage and retrieval solutions for various markets. Jim brings software expertise and a Clemson area perspective to the already diverse group.
The group has met with Southern Wesleyan University President Dr. Todd Voss to explore strategic initiatives at the growing, changing SWU campus. They also have met with Mike Batchelor, CEO of Baptist Easley Hospital, to explore common goals related to health care delivery in Pickens County.
On the educational front, the group reports that last spring, over 45 Guidance Counselors in the district toured the various members' factories to learn more about job skills needed for the future. STEM family night and STEM "hands on" student tours of factories has also been added to the services the group offers the School District.
"I believe that helping students and families explore potential jobs and careers located right in our own backyard is a beginning step to building solid, exciting futures for Pickens County kids" said Ms. Kelley Ponder, Guidance Counselor at Crosswell Elementary .
The group is working with the Career Center on expanding the tours and also to provide expert advisory board members to the Center's team of skilled career advisors. Ken Hitchcock, Director of the Career Center, said "MCPC has provided a one-stop shop for bringing experienced manufacturers and business leaders into our classrooms. We look forward to working with them in the future."
On another mission, the group has donated funds to various social causes such as the Dream Center, the Samaritan Free Clinic, the Adaptive Sports Foundation, the Wounded Warrior Project, and Helping Hands of Clemson. The group recently assisted with securing bunk beds for the Dream Center. Michael Fee, Vice President and owner of Reliable Automatic Sprinkler headed that initiative. Fee commented that "It is in our mission statement to help improve the quality of life in Pickens County by providing basic needs where they are needed and previous funding was nonexistent."
The group is exploring placing 3D printers in the middle schools. That technology is now very affordable and offers students a rewarding experience in exploring STEM skills in Engineering, Computer Aided Design (CAD), and other creative avenues. Tom O'Hanlan, Chairman of MCPC, comments "start these kids off in 5th-6th grade with exposure to 3D printing, and you'll have young rocket scientists and inventors by the time they graduate."
MCPC has also facilitated the meeting between Clemson's Computer science department and the school district. The goal is to have more computer classes in our local schools.
Dr. Danny Merck, Superintendent of Pickens County Schools commented that "I am excited to work this group going forward to enhance our career training skills for this area. SDPC welcomes strong business and industry connections."
Download This Press Release PDF
Stay tuned for future announcements.
The students in the Crosswell Elementary STEM club are an impressive group. They were very engaged in the Company presentation and the plant tour. They asked very good questions and produced insightful answers when questions were asked of them.
The STEM program, along with the desire to learn, will prepare the students for the future both locally and globally. Giving students an opportunity to see a manufacturing environment and witness all the steps it takes to make a product is an experience that can't be gained from a book. Tri-Tech USA, along with MCPC, is committed to promoting STEM education and being part of challenging and developing our youth.
Robert Colcolough
Plant Manager
Tri-Tech USA