Tom O'Hanlan, CEO of Sealevel Systems, is the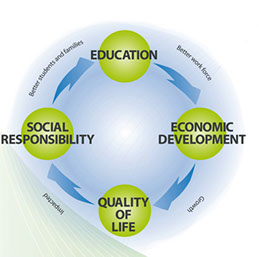 Chairman for Manufacturers Caring for Pickens County (MCPC). This newly formed group of business leaders has big goals to improve the economic development climate and attractiveness of Pickens County.
Recently, MCPC sponsored an event that gathered together guidance counselors from all the Pickens County schools to learn about job outlooks, training programs, economic development benefits and strategy, and what skill sets local manufacturers look for and hire. Manufacturers want and need skilled and educated employees in their work force. They can attain these employees through various efforts in cooperation with the School District of Pickens County and Tri-County Technical College. Better education does not only lead to better employees, but better parents, families and societal quality.
A more attractive work force will result in more companies expanding and moving to Pickens. More companies leads to more jobs, an increased tax base, and more money to be spent on education and social services. There are many other intangible benefits that are driven by economic development within the county and MCPC is striving to make this happen.
Tom sums up the goals of MCPC very nicely in saying, "the group was formed to advocate STEM Education, Economic Development and Social benefits, impacting quality of life and growth in Pickens County."
For More Information on or how to get involved with Manufacturers Caring for Pickens County please contact us at [email protected]
Calendar_______________________________________________________
September 10, 2014
MCPC Meeting
The students in the Crosswell Elementary STEM club are an impressive group. They were very engaged in the Company presentation and the plant tour. They asked very good questions and produced insightful answers when questions were asked of them.
The STEM program, along with the desire to learn, will prepare the students for the future both locally and globally. Giving students an opportunity to see a manufacturing environment and witness all the steps it takes to make a product is an experience that can't be gained from a book. Tri-Tech USA, along with MCPC, is committed to promoting STEM education and being part of challenging and developing our youth.
Robert Colcolough
Plant Manager
Tri-Tech USA
Crosswell Elementary STEM club Visits Tri Tech USA, Inc.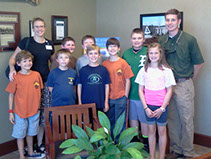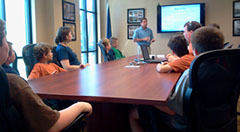 In The News
The Manufacturers Caring for Pickens County (MCPC) met on August 13th, and had a special guest, John Lummus, President and CEO of the Upstate Alliance. The Upstate Alliance is the key economic development engine in the upstate.
Lummus explained that the Upstate SC Alliance is a public-private partnership founded in 2000. Its mission is to bring new businesses to the 10-county Upstate region. The capital investment from these new businesses increase local tax bases and increase employment opportunities for local citizens.
"By marketing the Upstate as one region with 1.4 million people rather than 10 separate counties, we gain more exposure and impact with site selectors, and maximize our local investments in economic development programs by coordinating our business development outreach", said Lummus.
He also said that this approach creates more opportunities for "wins" for everyone because we are selling our area based on how it really operates.
A few recent examples of higher profile deals in which the Alliance has assisted include:
* Colgate Palmolive (2013)
Initial investment $196 million,
300 jobs, Greenwood Co.
* McLaughlin Body Co. (2013)
Initial investment $22.5 million, 250 jobs, Anderson Co.
* Esurance (2014)
Initial investment $2.1 million, 450 jobs, Greenville Co.
In all the above cases the Upstate SC Alliance was either the first point of contact or participated in providing research that helped land the project. Lummus concluded with questions from the group, then discussed how MCPC can work more closely with the Upstate Alliance on new opportunities and events.
The MCPC group meets monthly and tries to vary the guest speakers among the social, educational, and economic development lines. Past speakers have included Mike Batchelor, CEO of Baptist Easley Hospital, Kris Frady of the Clemson University Center for Workforce Development, and local elected officials.
The goals of MCPC are to promote economic development through educational improvements, social improvements and quality of life improvements
Download This Press Release PDF
Stay tuned for future announcements.